Mark Reifkind and wife Tracy of San Jose, California have changed many people's lives by helping them shed weight and transform into their better selves. Personal trainers by trade, both Mark and Tracy share a passion for kettle bell training.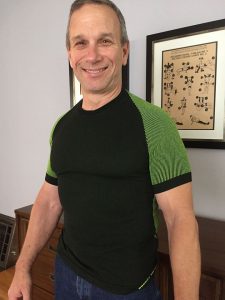 Mark is the owner and Chief Trainer of Girya Kettlebell Training Health Club and Fitness Center in Palo Alto, California. Originally from North Miami Beach, Florida, Mark has been active his entire life. Growing up so close to the beach, Mark took to water sports, learning to swim by age 2. Being a great swimmer, Mark taught himself how to surf at a young age. As Mark's first true athletic love, he continued to surf throughout his childhood until he found gymnastics at age 14. Gymnastics taught Mark a love of pure movement and an appreciation for what the human body can do, something he hadn't found surfing. Mark's hard work and dedication to gymnastics throughout his teenage years lead him to receive a full gymnastics scholarship to the University of Iowa at age 18. He was on track to go the 1980's Olympics when serious shoulder dislocation derailed his gymnastics career. Although unable to move forward in his athletic careers as a gymnast, Mark did not let his injury stop him from being active in other ways. He took up running which turned into ultra-running and triathlon training. Wanting to get stronger, he took up bodybuilding, which lead to powerlifting. After a back injury sidelined Mark from powerlifting, he found kettlebell training and has not looked back. Mark has found a real passion in kettlebell training and is a Master Instructor for StrongFirst. He travels the world teaching aspiring kettlebell instructors proper form and technique. Outside of kettlebell training, Mark enjoys rucking. His dream goal is to finish a 12-mile ruck in 4 hours with a 50lb pack. To see a complete list of Mark's athletic achievements, click here. 
 "Why do I love XOSKIN products? Because they do exactly what I need them to do. Keep me cool and dry when it's hot and warm and dry when it's cold. They never smell and are hard as nails. They work perfectly for my kettlebell workouts as well as my rucking. And they are the perfect travel wear. Plus, as a serious minimalist, they serve me well when looking for the few things I really want to have with me all the time." – Mark Reifkind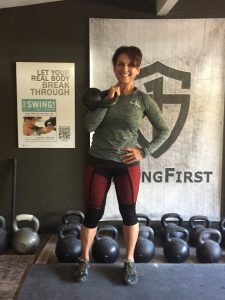 Like her husband, Tracy loves working with kettlebells. Her interest in kettlebell training started when she decided to go through her own personal transformation after decade of being overweight and inactive. Although naturally athletic most of her life, Tracy succumbed to the pitfalls of convenient food and a busy lifestyle. Taking full responsibility of her situation and realizing that she needed to get healthy, Tracy started cooking and preparing everything she ate herself, walking, and swinging kettlebells twice a week as a form of resistance training. Tracy credits kettlebell training with the incredible muscular tone she has developed. Looking at her now, one would never guess that she once weighed over 250 pounds! Tracy maintains her weight consistently between 128 and 130 pounds (size 6) and her body fat measures around 17-18%. The real surprise to Tracy was not that kettlebell training helped her lose so much weight, but what it did to her muscularity and definition. Realizing the unique properties of kettlebell swing training, Tracy became RKC and SFG certified to teach, share, motivate, and inspire others so that they too can experience their own transformation. To this day, Tracy is the only female to choose and successfully pass her testing requirement of 100 Snatches in 5 minutes during an Instructor Certification Course! She also has developed her own unique style of kettlebell training and is the creator of SwingLean, which focuses on fast, effective, efficient, safe and fun workouts for maximum weight loss, strength, endurance, overall work capacity, and fitness.
"The first time I wore XOSKIN I was amazed at how dry I felt during and after a very sweaty workout!  XOSKIN's ability to wick away moisture and dry quickly are nothing short of amazing!  I also like that there are no seams, the tights especially have great compression and above all they look pretty cool!  I always get compliments on my XOSKIN tights!  I can't say that about any other brand I've worn!" – Tracy Reifkind
Mark and Tracy inspire one another and this is evident in their joint kettlebell ventures. Mark and Tracy star together in the kettlebell training DVD, Mastering the Hardstyle Kettlebell Swing, where you can see just how passionate they are about their chosen sport. Mark has also starred in, Lats: The Super Muscle DVD and Restoring Lost Physical Function, while Tracy has starred in several of her own kettlebell training videos such as: Programming the Kettlebell Swing, Give and Take: A Kettlebell Swing Workout for Beggingers to Advanced, Give and Take 2, Side by Side, and D30, along with publishing her own book, The Swing!. Mark and Tracy travel the world lecturing about the benefits of kettlebell training and permanent weight loss; they are a true workout-power couple! Outside of coaching and kettlebell training, Mark and Tracy are parents to two sons and grandparents to two granddaughters and love spending time with their family.