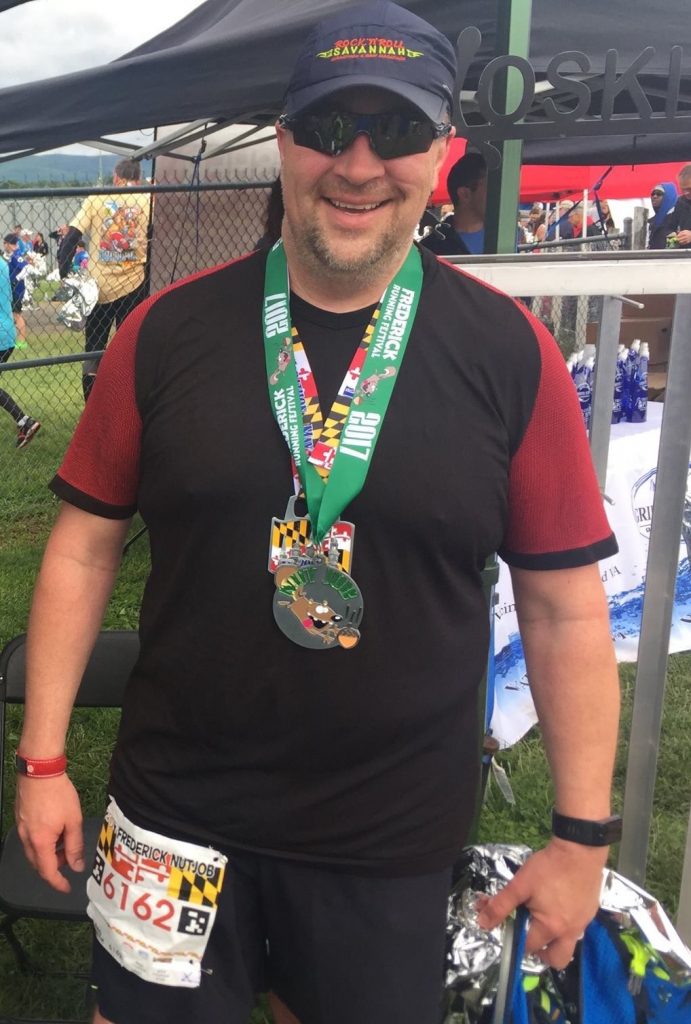 In 2011, Robert Hall was a 350lb pack a day smoker with a serious sleep apnea problem and lack of desire to care.  As a former US Marine who was being continually forced to "workout," Robert had zero desire to take care of himself.  He disliked running, working out, and he was completely uneducated on what he was doing to himself.  That all changed in 2012 when Robert woke up one morning and hated the image staring back at himself in the mirror. As a husband and father, Robert knew he needed to make several lifestyle changes so that he could be there for his wife and two young daughters and participate in family activities, something his health and size had been preventing him from being able to do. In order to better himself and his family, Robert decided the would make it his mission to lose weight and get in shape. By controlling his diet and working out moderately, Robert lost his first 20lbs. Feeling great about himself and the progress he was making, Robert decided that the next steps he would take on his fitness journey would be to quit smoking and amp up his cardio. Looking for activities that burn the most calories, running and spinning quickly became his addictions and to this day remain his favorite sports.
Robert started out running various 5K's and 10K's. His love for running grew tenfold and he soon began signing up for 10 Milers and Half Marathons. In 2016, Robert trained for and ran 9 Half Marathons around the country, 6 of those within 10 consecutive weeks. Shortly after finishing his 9th Half Marathon, Robert found that he no longer enjoyed running this distance and that he needed to try something different. Through a local Frederick, Maryland running club, Robert discovered trail running and has been hooked ever since. Over the past year, Robert's time on the trails has been plentiful and fulfilling with lots of training and multiple trail races. He's having a blast learning how to run with a different mentality and making new friendships along the way. The camaraderie that comes from a very tight niche group of trail runners is something he has not experienced since serving in the USMC, and aside from the beauty of the actual trails, is something that makes this form of running so enjoyable for Robert.
Over the course of the last 5 years, Robert has lost a total of 100lbs and found a passion for health and fitness that he has never experienced before. Instead of lighting up a cigarette, trail running has become Robert's guilty pleasure. Once shy and more reserved, he has also found that his lifestyle changes have pulled him out of his "personality shell". Robert is now leading teams of runners through various training programs and races and is a brand ambassador for XOSKIN. Additionally, Robert is studying to become a Certified Personal Trainer and recently signed up to race in his first ever 50K next year at the North Face Endurance Challenge in Washington, D.C.